Eclipse Magazine - DPA honoring the 2023 Oscar nominees at the Luxe Sunset Boulevard Hotel
Lane1 and Gernie, a new brand of sneakers designed by Amira Dior a 14-year-old Brooklyn native. Keep reading...
Crain's New York - Bed-Stuy 14-year-old brings her sneaker design to the Oscars
Tech Bullion - GERNIE NYC – A Men's Fashion Brand on the Rise
From the roots of Brooklyn, New York, GERNIE NYC was created, cultivated, and born. A lifestyle brand that offers men's high fashion footwear and accessories. Renowned for the highest quality materials, craftsmanship, and flavor. GERNIE NYC is quickly influencing pop culture and is recognized amongst the finest. As a rapidly and mature growing urban brand, GERNIE NYC is devoted to promoting fashion and confidence every day. Walk, run or fly, the story is just unfolding. Keep reading...
Jets Weekly - Gernie NYC - The Lifestyle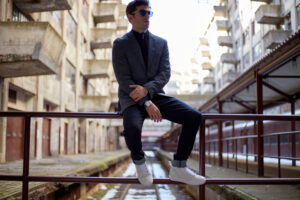 People tend to think it takes a guru to find fashion. A couple of weeks ago fashion found me. While walking into a local coffee shop in New York City. I spotted a well-dressed business executive on what seemed to be his routine afternoon coffee recess. Keep reading...
PIX 11 - Brooklyn teen with sneaker line invited to Oscars
After PIX11's story, Amira-Dior Traynham-Artis' mom said the teen was asked to work on shoes that will be provided at the DPA Luxe Gift Suite the week of the Academy Awards. Thanks to SW Roseburgh and Gernie NY, the shoes will be provided exclusively to Oscar nominees. Keep reading...
Good Morning America - Brooklyn teen designer to present sneakers at celebrity gift suite
A 14-year-old Brooklyn shoe designer is stepping onto the Hollywood scene. Enter Amira-Dior Traynham-Artis, the creator of a shoe line called Lane 1. The young entrepreneur will present her sneakers at a celebrity gift suite prior to the Oscars, the movie industry's biggest night. Keep reading...